Global Learning Through English
At KGM, English is not a "subject" but a "power to live". English is a daily "tool" for businesses and various fields used by approximately 25% of the world's population. From a global perspective, it is not only required to be able to use it in real life after graduating, but it has become one of the most indispensable skills that must be acquired. In this global society where we live, English is also an international language in business and science, namely "Linga Franca" (common language). If you have English as a tool, your future options will expand dramatically.
To prepare for the arrival of a multilingual society, KGM has launched a course, Global Learning Through English (GLE) for 4th year students to expand their possibilities of going to universities abroad. Prior to that, we started the SELF START program for the GLE course for 3rd year students in 2018.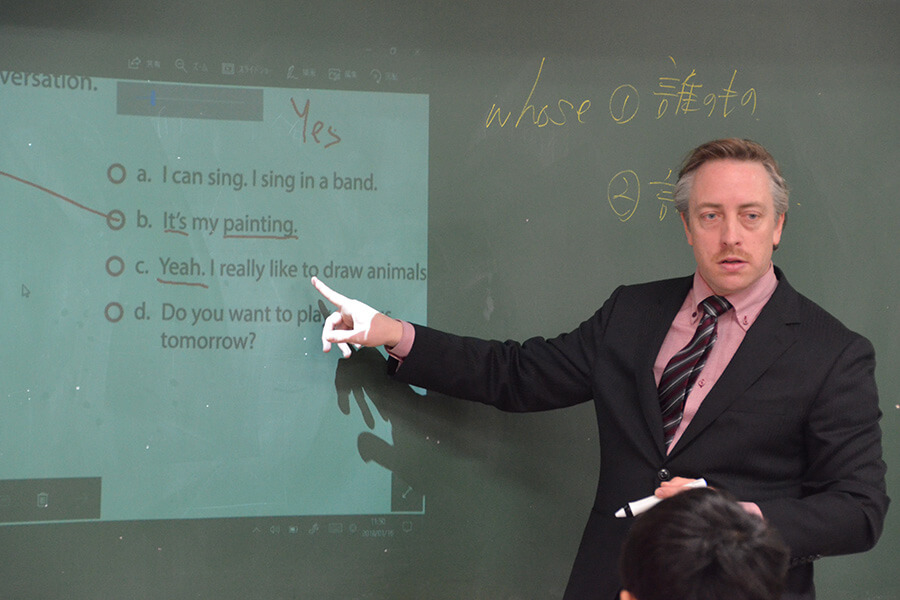 What is the GLE course?
The Global Learning through English (GLE) course is based on the concept of the "SELF (Success and Empowerment in the Lingua Franca)" program. It is a multi-year program which has different goals depending on the year. Its goal is to nurture students in order for them to attend domestic and overseas universities where lectures are given in English.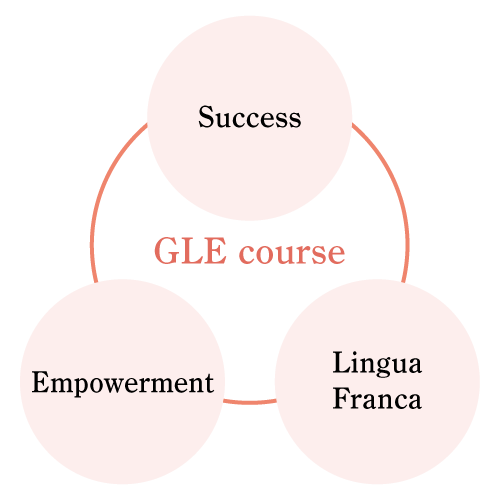 S

uccess
"Success" is different for each person. Some people have high status and rich economic power, others have warm family and friends. Without a doubt, the ability to communicate with people around the world will bring you closer to the success you envision.

E

mpowerment
"Empowerment" means increasing self-fulfillment. If you improve your ability to use English, not only will you be able to connect with people around the world, but you will also be able to expand your potential throughout the world.

L

ingua

F

ranca
"Linga Franca" is a common language used by people with different native languages. In modern times, English is the key to an unknown society. English is increasingly valued as a means of communication.
GLE course flow
3rd

year
pre -GLE
SELF START ( self – start program)
Regular classes (6 hours per week) + 2 hours

1. Writing for communication
2. English in the world

Off-campus training
4th

year
SELF ADVANCE (Self Advance Program)
Complete regular English classes (7 hours per week)
IELTS course
Various learning and activities across different topics
Supplementary classes for students starting in the 4th year
5th

year
SELF EXCEL ( self – excel program)
Complete regular English classes (8 hours per week)
IELTS course
Various learning and activities across subjects
Practical English composition exercise
Examination of various topics
6th

year
SELF EXCEL
Acquire the basics of English and prepare for advancement to universities in Japan and overseas
Short-Term/
Long-Term
Study
Abroad
Participate in short-term / long-term overseas study (more than once) between grades 3 and 5
Example: Studying in Australia / Term
Long -term studying in New Zealand
Cebu language training 8-week course, etc.
Scholarships depending on the Eiken scores
What is the SELF START program (Pre-GLE)?
This is the start program for the 3rd year in preparation for the 4th year GLE course. In addition to regular English classes (6 hours per week), students will learn about "writing for communication" and "English in the world". Only students who have passed Level PRE 2 or higher at the end of the second year can participate in this pre-GLE course. In 2018, 24 students are studying in this course.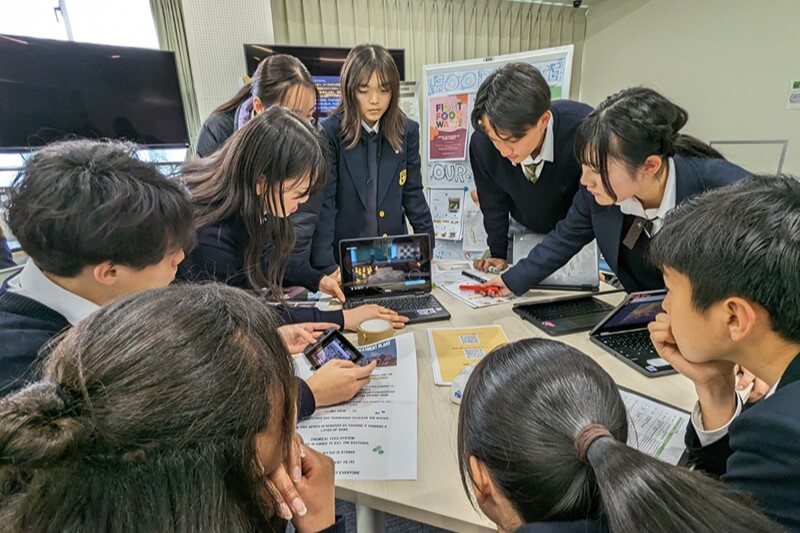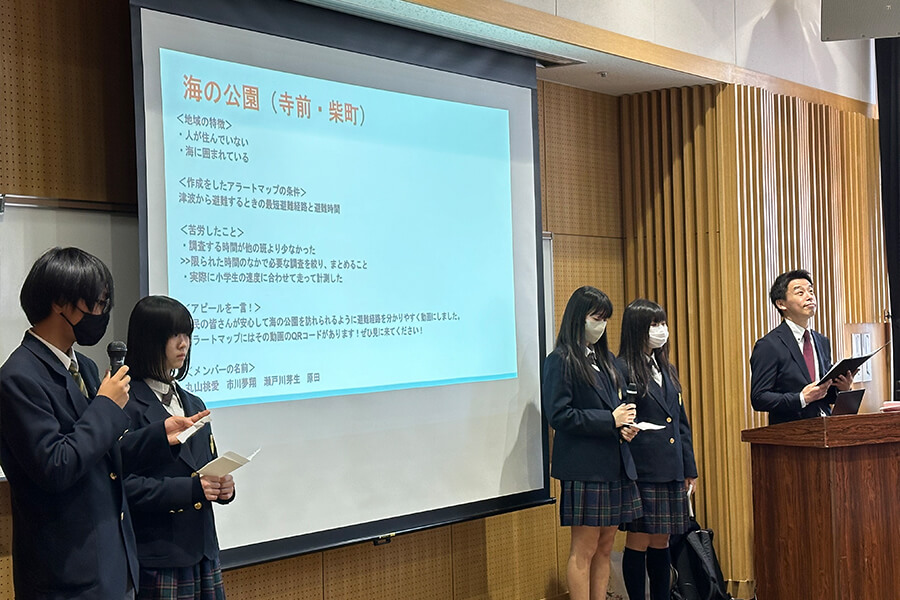 Writing for communication
Using the text "Weaving it Together", you will learn the skills necessary for writing from the basics and acquire the ability to think critically on various problems in the world. The text, like "TIME ZONES", also contain the latest topics provided by National Geographic, which stimulates students' interests.
1st semester
Learn how to write papers using various grammatical expressions
Learn how to write various forms of essays
2nd semester
Learn about cultural events and other things in Japan and other countries
Acquire the writing techniques necessary for writing an essay
English in the world
Learn about how English is used as an international language and lingua franca by looking at English used by non-native speakers.
"I feel the importance of communicating in English in a global environment draws out my desire to acquire English expression skills. This reminds me of the gap between what I want to say and what I can say."
2nd semester
An overview of the history from the birth of English to its current state
Learn that there is a wide variety of "English" in the world
Searching for common points and differences in "English in the world" from accents and pronunciation
Learn how English is used in the world through pop culture
3rd semester
Learn how people with different native languages use English
Learn how English is used "wrongly" but "effectively" in a global environment
Learn to use English to communicate in a global environment
Think about the differences between English spoken by Japanese and English spoken in other countries
Have the opportunity to talk with people around the world
Make a speech about "English and Me Relationship"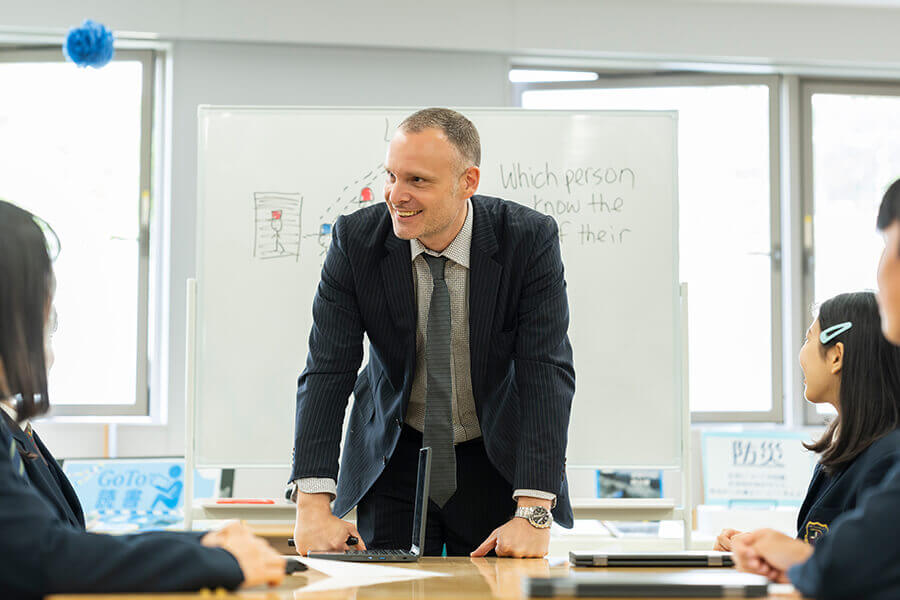 English Department Deputy Director
Sean Patterson
I am in charge of creating the English curriculum. We introduced a new educational method, CLIL, in 2015. Three years have passed since the introduction, and I feel that students' English has improved and that more and more students are starting to think globally. Of course, even if you go on to a university in Japan, it goes without saying that having a high level of English is an overwhelming advantage. Japan will certainly have many new industries within 10 years, and the globalization of the working environment will expand. What kind of power should children have at that time? The GLE course provides learning from this perspective.