Be Flexible
A big change is coming for everyone. Japanese society is changing at a speed and scale never experienced before. A declining birthrate and aging population, a decreasing labor force, increasing numbers of foreign students and job seekers, economic growth in other Asian countries and increasing importance of corporate activities overseas, the developing of artificial intelligence and Robotic Process Automation…a big change is indeed coming.
English, the communication tool for 25% of the world's people, will be the common language for roughly half of children alive today. Kanto Gakuin Mutsuura has changed its view of education to imagine Japanese society 10 ~ 20 years in the future.
Changing teaching methods and improving the environment for our students, Kanto Gakuin Mutsuura looks ahead to the near future when a term like "globalization" will have no special meaning. It is now, while our students are in their most flexible state, that we begin to expand their horizons and inspire them to be a part of the future society.

Humanistic education fostering
"neighborly love"

Instruction that cultivates
"solving power"

CLIL and 4 skill English education

Optional global training to experience the world
School Lesson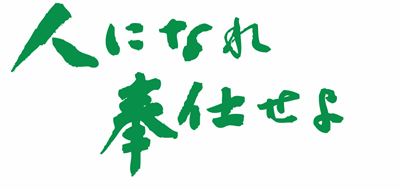 Tasuku Sakata, the first president of the school, said "This school aims to build the spirit of Christianity, and in order to express this concretely, we have two lessons: Be a man and serve the world to improve the lives of people and serve with the spirit of love from Christ."
The basis of our education has been based on this spirit of Christianity. We nurture our students to play an active role in society as the light of the world and salt of the earth.
Three educational goals
Educational Goal #1 Encourage each other
This is the goal derived from Thessalonians 1:5:11 "Encourage one another and build each other up, just as in fact you are doing."
We aim to develop human resources who can respect each other's differences, learn from and encourage each other.
Educational Goal #2 Serve society
This is the goal derived from Romans 12:7 "If you have received the gift of service, then give service."
"Service" is a term used in school lessons and fosters human resources who can contribute to the whole society through actions based on free opinions, including consideration for others.
Educational Goal #3 Respect peace
This is the goal derived from Matthew 5:9 "Blessed are the peacemakers, for they will be called children of God."
Remembering the history of our school, which changed location because of damage from war, we aim to cultivate human resources who can create a peaceful environment where people can live safely.
Kanto Gakuin Mutsuura Junior and Senior High School Basic Education Policy
Preamble
History
Kanto Gakuin Mutsuura Junior and Senior High School goes back to the Yokohama Baptist Theological Seminary (founded in 1884, Principal A.A Bennett, Yokohama Yamate) with Mutsuura Campus established in 1953.
Since then, we have been providing secondary education to the community at the Mutsuura campus. Though there have been many challenges and obstacles to overcome, in 2003 it celebrated its 50th anniversary as a school with many graduates.
The Purpose
KGM has consistently been based on the spirit of Christianity since its establishment with the goal to develop human resources who can contribute to society, based on the lessons of Yutaka Sataka, the first director of Kanto Gakuin Junior High School. The school's education is based on the following principles and rules:
The purpose of this corporation is to provide school education based on Christianity in accordance with the Basic Education Law and School Education Law.
Kanto Gakuin will have the spirit of Christianity.
Based on the Basic Education Law and the School Education Law, our junior high school aims to provide general education, progressing students' mental and physical development from elementary school.
Based on the Basic Education Law and the School Education Law, our senior high school aims to provide general education, progressing students' mental and physical development from junior high school.
Keynote
Today, the situation in the educational world is changing dramatically. Rapid changes in the social structure and accelerating changes in the times are applicable to all areas of society and powerful enough to change past values and perceptions. Our school is required to establish an educational policy that aligns with the current situation, including the reconstruction of education whilst taking into account the progress of the last 50 years.
As we carry out school education in accordance with the purpose of our school, we would like to gain new perspectives for the present and the future, looking again at today's social and historical conditions. We also hope that this school will contribute to the further advancement of education and that our graduates will be able to contribute to society.
Text
Faculty Mission
The faculty members of the school conduct educational activities in accordance with the following rules.
Teachers are always training and do not neglect planning and preparation necessary for educational activities.
Teachers always strive to acquire professional knowledge and skills, and strive to improve their work through creative ideas.
Responsibility of current students' parents
In conducting educational activities, we request that parents agree to the school's basic educational policy. In order to realize the founding spirit and school lessons based on it and to achieve the educational objectives established by the school, we ask that parents cooperate with faculty members to ensure the school education is carried out smoothly.
Conclusion
We gather at school, learn together, and pray together, sharing various issues with the people of society. At school, we listen with humility to all voices and engage in daily interactions with students and parents, aiming to achieve our educational goals. In order to promote the schools educational goals, we will steadily follow the path we must follow, under the grace and guidance of the Lord Jesus Christ.