Global EducationChoice-based global training is to experience the world
The experience interacting with people and living in a cross-cultural society is an opportunity to create new perspectives and ideas that will greatly expand students' minds.
The school offers many opportunities for this.
3rd-6th
Alaska Trip with a Science Focus

This is a training course to observe phenomena in nature unique to the extremely cold region, with the main focus on aurora borealis observation. In advance learning, you will receive lectures from teachers from universities specializing in the northern lights. In addition to these observations, you will also receive training at the Institute of Geophysics at the University of Alaska.
4th/5th
Canadian Study Abroad Program

In addition to language training, this is a career-directed training program that expands the image of being active overseas in the future. Students will listen to stories from Japanese people who are working overseas to help establish a future career direction.
1st/2nd
KGM English Camp

Learn English conversation through hiking and outdoor activities. Students can pick up English while being active.
1st-6th
Cebu Island Language Training

Students will learn English for 8 hours a day through one-on-one lessons. The four skills of reading, writing, listening, and speaking will be improved in a well-balanced manner. On weekends, students will also experience volunteering and interacting with Filipino children.
1st-6th
Cambodia Service Learning Program

Visit Cambodian elementary and junior high schools to deepen the exchange experience. Students will be educational volunteers and will think hard and prepare to try and make Cambodian children happy. Students will also learn a wide range of Cambodian history and culture.
1st-6th
Kyoto / Nara Excursions

A program of awareness and growth that cannot be experienced in group training. Training is individual, each student will establish research themes based on their own interests, make a hypothesis, create an action plan, and carefully examine them and collect information at the destination. They will then complete a presentation by summarizing things they learned as well as verify their hypothesis.
1st-6th
Taiwan Study Abroad Program

Experience Asia, the center of the world economy, and gain tips for growing into a tough, international human resource with an international perspective. In Taiwan, which is a hub connecting Asia, Europe, and America, we will observe the aspects of a strong Chinese culture, the growing society of a market economy, and field surveys. Visiting students that come as part of their educational experience will interact through presentations. This is a training program that allows students to feel the arrival of the Asian era from the perspective of junior and senior high school students.
3rd-5th
Malaysia Long-term Study Abroad

Students will take classes in English using the Cambridge Syllabus at Nirai International School and Mas International School. In addition to learning through the English Proficiency Program (EPP) for improving English, students can learn a wide range of culture by touching the multilingual and multicultural culture of Malaysia.
6th
UC Davis Training

This is a locally delivered, American-based training program for students who are planning on going to a foreign university or who would like to have a different learning experience. after April. Lectures are given by staff (professors and students) from the University of California, Davis. One of the world's top universities the main aim is to improve language and presentation skills. In addition, the student will be exempt from the 280,000 yen fee if an advanced student recommended by Kanto Gakuin University Phase I participates in this training.
2nd-5th
Australian Long-term Study Abroad(Queensland State School)

While doing a homestay, you will take classes at a local school and experience life abroad. In addition to improving English proficiency, we aim to learn about overseas cultures and expand our horizons through interaction with local school students and host families.
4th/5th
Australian Long-term Study Abroad(Melbourne private school)

This is a program for studying at a private school near Melbourne. You can learn English more practically by taking regular classes at your school. You will improve your English by staying with a local family and by experiencing a class environment with almost no Japanese. There is a scholarship system based on Eiken scores.
3rd-4th
Long-term study abroad at a New Zealand partner school

New Zealand Christchurch Boys High School and Rugby have signed an agreement to promote international exchange through education. Students study abroad for 3 months to 1 year and experience different cultures and learn languages. The school's unique tuition policy lowers the economic hurdle for long-term study abroad. There are several other schools where you can study abroad.
Global Human Resource Development Program Report "Go! Global"
Please also see the "Go! Global" leaflet, which introduces the overseas training program being conducted at our school.
Globalization is becoming increasingly borderless. The six years at junior and senior high schools are an important time and place to prepare for society 10 and even 20 years after admission. It's important to create a learning environment that allows students to be aware of, and experience, the borderless society at an early stage. Kanto Gakuin Mutsuura has now celebrated its 60th anniversary, and has a new mission "to bring your young feelings to the road… to connect the future to the world". In "Go! Global", we will tell you about our global human resource development program.
The "Go! Global" leaflet introduces some of the school's global education, including the introduction of programs such as overseas training conducted at the school and reports from participating students.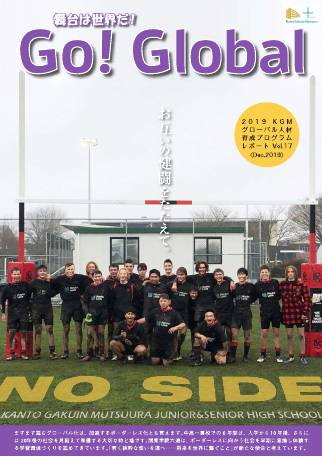 Go!Global Vol.17(2019.12)